TGIF Everyone!!! :-D
Well, I was perusing Facebook this morning, when I discovered that today...June 7th...is the happiest day on Earth!! Have you heard the news???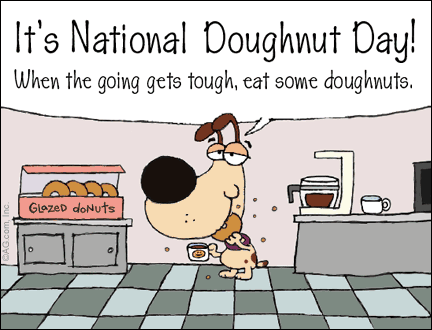 Hecks Yeah!!!
Can you believe it? There's actually a day that is completely and utterly devoted to all things Doughnut!! :-D Que Delicioso!!!
So, now that you are all absolutely starving and salivating over the keyboard, how can you celebrate this fantastic day?!
As most of you know...it's probably not the best idea to shove an entire box of human doughnuts down your throat (whether you are a dog or, come to think of it, a human), but there are a couple of really great pup recipes and ideas on the market!
I was given a pup doughnut from
Petco
for my last birthday, it was fabulous, and relatively inexpensive at only $4.99 for the entire container!
But, if you want a treat that's a little healthier...or one that you actually know what the ingredients are, then I suggest taking a look at
Dr. V
and Brody's
doughnut recipe
! :-D
There's only 7 ingredients needed for this fantastic (and beautiful) recipe and I'm pretty sure that you have most of them in your pantries already! Brody gives them 2 GIANT paws up...so how can you say "No"?
Borrowed from Pawcurious Facebook page
I'm going to try and convince Domeek to make me and cousin Pippi some this weekend...better late than never! ;-)
Well, I'm going to relax at Starbucks for a bit and then hit the doggie park...try to stay out of all this crazy heat, especially if you live in California!!
Have a great weekend everyone!